Who knew that the love for a dog could be so immense, a bond so strong you could take on mountains together and conquer the world (we all know that's already happened)
After growing up with dogs I always knew they weren't just a dog, they are family but when Deru arrived it was a love like no other; a kind of protection I guess towards him but who can blame me after the ordeals he went through before he arrived here with us. Thinking back now to those early days, how after every walk I would come back feeling heartbroken. I would literally spend the majority of our walks telling myself to 'get a grip' and stop being so emotional. Deru would be standing one minute, then next in a heap on the floor or toppling backwards down some stairs (an image that will haunt me forever) because he had such little limb awareness so constantly losing his footing. I can't explain how it made me feel witnessing this every day, the pain, the anger towards the ones who did this to him, how could they?! How can someone hurt such a beautiful creature.
Those feelings however soon subsided and were replaced with awe, inspiration and love. None of this seemed to phase Deru, he would be back on his feet in a flash and made every attempt at keeping up with his brothers. The constant strength and determination this boy has shown over these past few months since being here with us has never ceased to amaze me. We have tested him with so much…physiotherapy, daily challenges – some as simple as balancing on his wobble cushion right through to weekly hydrotherapy, he gave it his all every time. I do genuinely believe that if this had of happened to any other dog, they wouldn't of survived, strong statement I know but if you've had the privilege of meeting Deru, I'm sure you'll agree.
It's a moment that will stick with me forever, vivid and clear.. as though it happened only yesterday; the time when we first saw the online post about Deru from when he was first rescued. My heart sank and I burst into tears (the guys in the hand car wash must of thought I was a mad woman) The sadness in his eyes, the pity that came over me, he was skin and bone. This was it, this was THAT moment when you realise you have to do something, you can't just sit back hoping and praying that he pulls through, you actually need to do something about this.
Six months later, just two weeks before our wedding he arrived. The drive down to the collection point was never ending, the feeling of sickness, the nerves were tearing me apart, had we made the right decision, can we actually help this poor soul and nurse him back to health. The wait was agonizing. The van pulled up, out came all the other rescue dogs and there he was….a malnourished and nervous Deru. We got him out onto the grass and that gorgeous little bottom of his started wagging, along with his entire body, he had such swag but he knew it. I believe he knew from that moment on he was safe, forever in our arms, safe from harm and surrounded by all the love we could give him. It took a while for it to sink in; seeing him right there in front of me, scars and all. The harsh reality of his injuries hit home. None of that mattered now though, through the floods of tears as the emotion was too much we said our goodbyes to the volunteers and made a start on our journey home… Deru's journey home to a new, better life.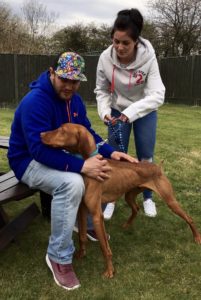 Who'd of thought from then until now we would overcome so much together, help each other through the tough times and develop an unbreakable bond.
This is just the beginning…..
Lara & Deru x