I remember it well…all the planning that goes into the big day, by the big day I mean that one day you dream about since you were a little girl, your wedding day.
The venue, the dress, the food, the celebrations. The planning that goes into that day is unreal, but we were almost ready, everything was set. The dress was here, the boys attire (and by boys I obviously mean Alfie and Arthur – the men can sort themselves out) was sorted and on its way, the venue was to be dressed in a beautiful woodland style theme, tweeds and a touch of vintage thrown in for that extra wow factor. Everything was planned down to the last feather in every flower bouquet… perfect.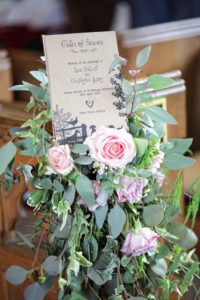 Little did we know that our latest four legged friend was going to arrive just 3 weeks before the big day and turn Mum from a calm cool collected B2B in to the world's biggest bridezilla. Panic stations set in as everything had to be just right. So this meant within days of Deru's arrival I was on the phone to our amazing wedding stationer requesting for another Vizsla silhouette to be added to all of our wedding stationary including our table plan, order of service and table name cards… no pressure there then.
Of course, Deru needed to be in matching attire as his brothers so we ordered another bow tie/collar and lead set and requested for super quick processing as it was for a very special someone, thankfully again we had picked another amazing supplier who was more than happy to help out. Who knew we were getting such a diva…
We also had to arrange a trustworthy source of care for Deru for the day of our wedding, this felt like a huge thing to ask of someone with such short notice but also for someone to care for a dog with such huge needs. Luckily an amazing friend of ours stepped in to help out, a fellow Vizsla owner, who was also kind enough to bring all 3 boys down to the venue on the day so they were waiting for us when we walked out of church ready for the photographs. (Sat smiling to one self whilst remembering the 'dog lose' scenario straight after we came out) Fellow Vizsla owners will understand that trying to tell your V not to jump up when they haven't seen you for all of 30minutes is a nigh impossible task …. All adds to a good story to tell though doesn't it 😊
Dogs fully under control it was time for the pictures and for Deru to steal the lime light once more, as he fully deserved. He stood proud in his bow tie, with his brothers and forever family by his side. He looked amazing, harness and all, but standing unaided; I don't think my smile could of gotten any bigger that day.
I think this was the moment he began to really start his celebrity lifestyle, so many lovely comments, all those people taking pictures and wanting to show him some affection. He took it all in his stride…. #legenderu began.
After such amazing day you almost come back to reality with a thud. I remember suddenly feeling a bit overwhelmed by life and the tasks we had facing us with Deru going forward. One of which was the publicity side of things. We already knew Deru had gained so much interest from when his original rescue story was posted so I couldn't help but feel an immense pressure upon myself to continue his story.
I think the wedding photo was one of the first pictures I posted on to Deru's newly set up FB page; I was astonished by the amount of likes and truly lovely comments that people were taking the time to write to us. I realised from that moment on we really did have a star in the making and that his journey was one that needed to be shared, it was too good to keep to ourselves.
The day went perfectly, we did it our way, in true style and chaos, throwing another very special four legged friend in the mix was nothing we couldn't handle. We treasured every moment and couldn't imagine not having the boys there to celebrate with us.
It's your day, there's only going to be one like it; and if your like me then you'll look back on it with the fondest of memories and eyes full of (happy) tears.
Now only if I could do it all again…. (sigh)….
Lara & Deru x
Photos credits: Lesley & Shaun Meredith and Deannamic Designs