Since Kibble Bakery opened just before Christmas in the market town of Skipton, we couldn't wait to get our paws inside. With it's bright pink shop front it attracted me since I first drove past and if I'm honest, every single time after that as well so we just had to try it out.
I know some of you who have attended Deru's Vizz Whizz meets have been lucky enough to get inside this gorgeous hooman & hound café already, but for those who haven't yet had the privilege, read on and we promise you'll be planning your first trip by the time you've finished!
We first popped by without the trio, just to check out the size of the place and make sure the 3 boy's would actually fit without ransacking the place. (Vizzie owners – I know you can relate, I'm talking about the need to say hello to everyone and everything) We were pleasantly surprised at the space that greeted us, well used, minimalistic furniture and very dog friendly. With a good choice of seating from the cosy comfy chairs to the chip board with colour pop cushions there is something for everyone.
We were met by the lovely owner Jade, who couldn't of been more welcoming, she offered us a seat and gave us the menus to choose from. Now came the point where I sat pondering the menu for what felt like hours on end, the choice was mouth watering, too good to be true! A double sided menu, Hooman on one side, Hound on the other. I mean if I'm being honest here, the hooman menu is brilliant but I was more drawn to the FAB choice of hound treats. All handmade with your dogs health in mind, gluten, wheat and dairy free it's the perfect place to stop off for refreshments after a good walk. (this is now our go to place after all our Vizz Whizz meets) The hound menu is made up with a variety of flavours of Biscuits, Pupcakes, Sausages, Donuts, Ice Cream and even Pawsecco.
Seen as though the boys weren't with us this time we decided we best stick to the Hooman menu this time around so opted for a coffee & couldn't resist a slice of their homemade chocolate brownie and blueberry muffin to go with it. It was delicious.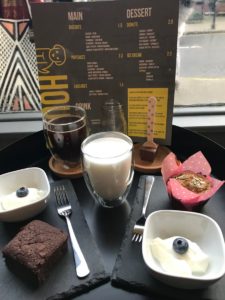 After a lovely relaxing stay we decided to grab the boys some pupcakes and make a run for it so I could start planning our first trip back there, boy's in tow. Since then we can't keep away, its our new favourite hide out. We've been back numerous times and have even been lucky enough to hold our very own photoshoot there, the boys were like kids in candy stores – literally!
Kibble also stocks it's very own range of dog toys, bowls & feeders, and gorgeous dog attire including collars, leads, dog coats, bow ties and some very stylish bandanas, what's not to love.
Becoming renowned for its quirky style, stylish interiors and love of all things dog, Kibble Bakery is fast becoming the new hot spot about town, if you've not been you'll soon be the only ones who haven't as everyone's talking about it!
Keep your eyes peeled for more dates to be released on Deru's Facebook page for planned meets as we'll certainly be warming ourselves up in this spot afterwards, its the perfect combination.
If you'd like to read more about Kibble Bakery you can click here to have a sneak peak at their up and coming website. They are also tagged in all of our posts about them over on Insta/FB too.
Once again we would like to say a huge thank you to Kibble Bakery for inviting us in and making us feel very welcome; and for giving just as much love to those three crazy ginger pups who are always in tow!
We can't wait to see you there!!
Lara, Alfie, Arthur & Deru xox
*All opinions remain our own about Kibble Bakery