So as I'm sure you all already know, we love working with other adopters from various Vizsla Charities so when the lovely Marianne from Trotting Dog got in touch asking if we would like to try out their new Hands Free Harness we couldn't wait! Marianne has two Vizsla's herself; Spike and then Milo who came from the Cyprus Vizsla Rescue Association. This inspired Marianne to once again give back to the charities and help support the wonderful work that they do by donating some of her products to the regular fundraising auctions that they hold. As well as the harness there is some gorgeous stationary and gift ideas on the website, click here to have a sneak peak at what else they have got to offer.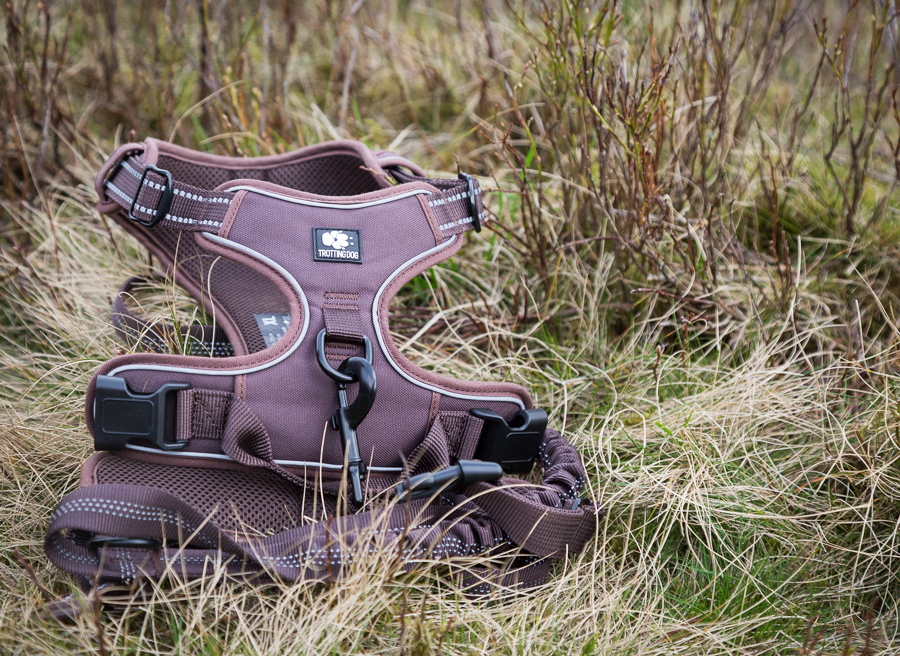 The 3 in 1 Harness
So lets talk harnesses, ever since getting a third dog I've found it really quite difficult when lead walking them all together, you always seem to be being dragged in opposite directions or pulled off your feet at the sight of any moving object (and yes I mean even a leaf blowing in the wind – if you know Arthur then you'll know what I'm talking about) so the thought of having one 'hands free' came with great delight! Now I used a harness to aid Deru's recovery when he first arrived however since being given a bill of clean health I haven't really found one that I would like to use on a daily basis. The ones I previously tried on him always seem to rub underneath his chest or armpits as he is very deep chested or didn't fit quite as snug as they should do, so I guess I eventually gave up to the idea.
If you watch Deru's IG stories, you will already be aware of the fact that he has started to knuckle again on his forelimbs so we have had to go back to basics again, slow him down and start building his limb awareness up once more so the harness has been a huge help with this. Deru finds movement a lot more difficult when slowed down, so getting him to a walk pace rather than zooming everywhere at 100mph can be quite difficult especially when on a lead. As I know I have previously mentioned with his previous neck/spinal injuries, I don't particularly like lead walking him with a leash around his neck so a harness is the perfect solution.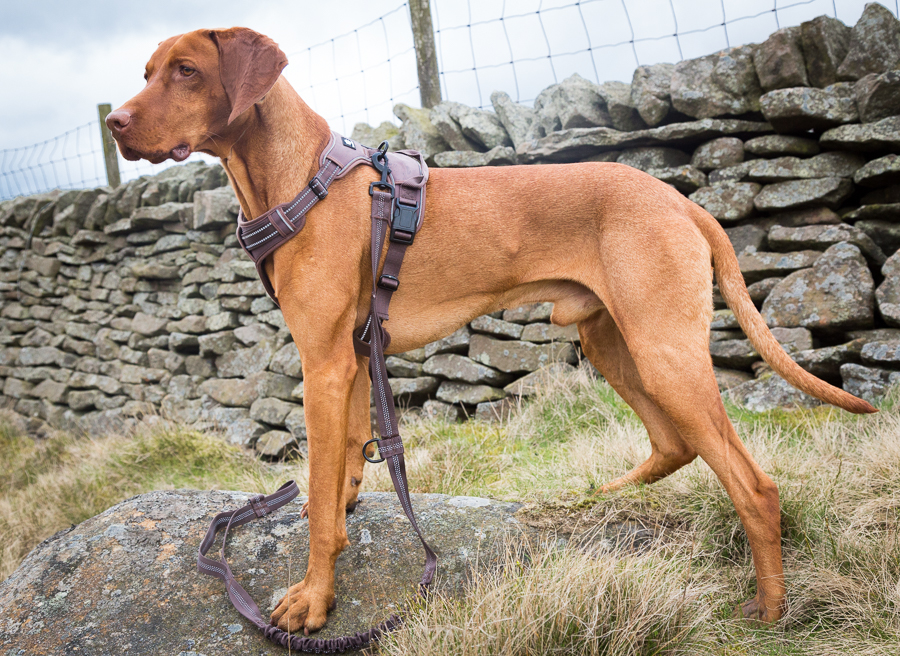 3 in 1 – harness, hands free leash and belt pouch – you get the full package which is something else that attracted me to trying this out!
Coming in a stylish brown with slate grey detailing it's the perfect harness for the dapper country dog. The chest and back area of the harness has a breathable mesh lining to avoid any sweating or rubbing, a must in this glorious weather we're now embracing. Reflective trimming for winter use (not that we want to think about that now Spring has finally made its appearance) Super easy to fasten and adjust as well once on your dog, you don't need a full instruction manual to work out what fits where unlike some I have previously seen; we're all about the quick and easy here at 'The Life of Deru'. Final thing we noted is that the harness features a handy 'handle' which is fitted across the back of the dog harness, perfect to aid you dog over those awkward styles or perhaps to aid more simple movements like walking, just like we did within Deru's rehab.
The leash is 1.5m in length and includes the bungee style inner to help absorb the pulling motion of your dog, this has to be one of my favourite pointers as I was concerned that having the dog fastened around your waist would impact on your back; however this is not the case. The lead can be shorted if you prefer by clipping it up on one of the many D-rings it features or left longer for those runners amongst you who don't want your dog underneath your feet. It also features dual handles so again you can hold the dog if you prefer whilst clipped to the belt for added control or be left loose for those more relaxed countryside walks.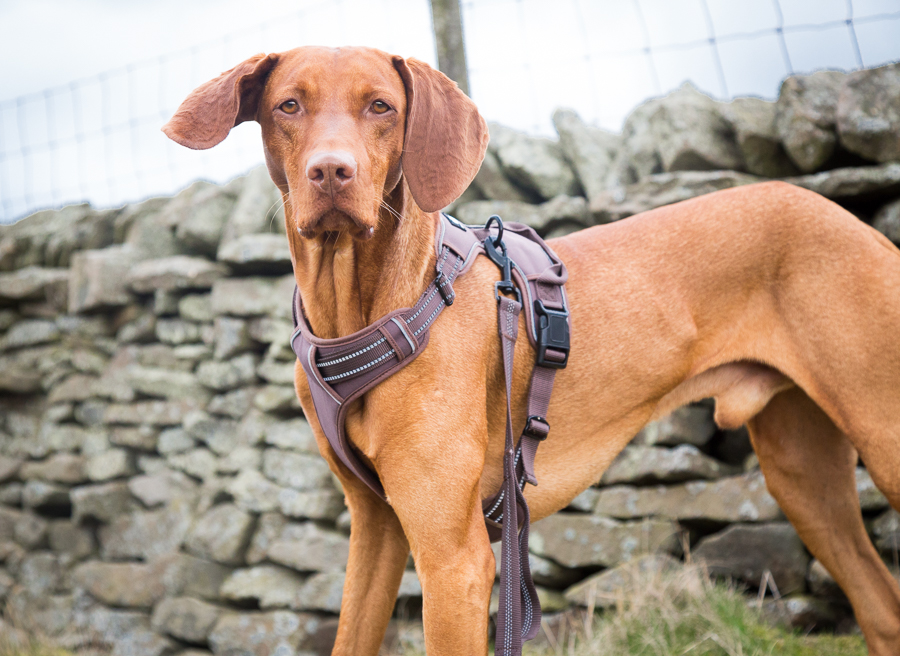 The belt is an easy fasten, around the waist belt which comes complete with zip lock pouch, perfect for holding those walking essentials – poo bags, treats, phone, keys….yes we've tried and it fits them all! The pouch also has internal webbing to increase durability and also has a great 'poo bag dispenser' hole at the top so you don't have to open the pouch every time you clean up after your dog. (They totally own us don't they)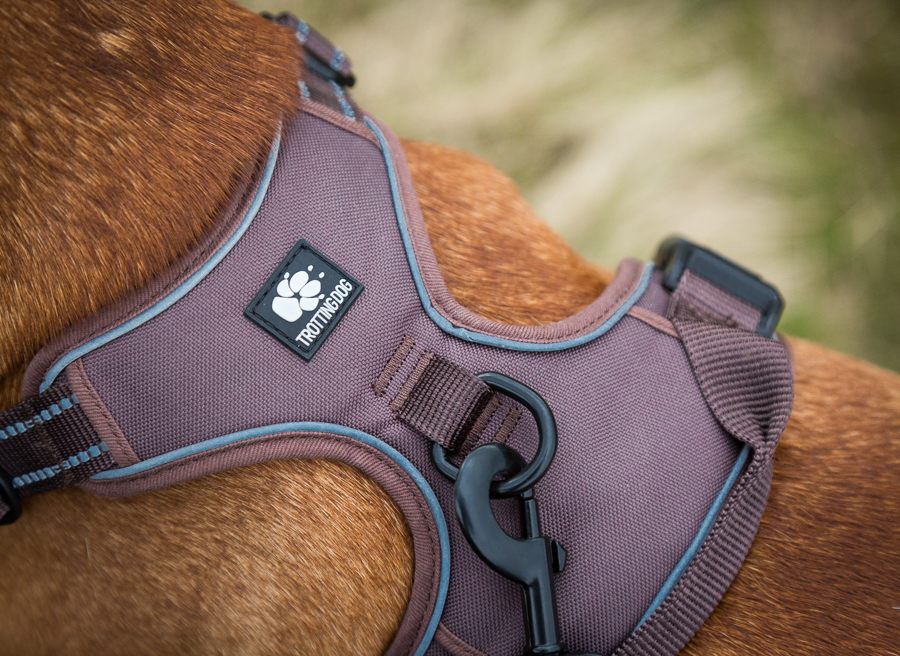 So if you have a dog that currently going through rehabilitation, a strong puller or like me just needed that extra pair of 'hands' then I would highly recommend you to try out the 'Hands Free Harness and Leash'. I've popped a direct link below to the website if you'd like any more information.
It's been a life saver for Mum so we would like to say a huge 'Thank You' to Marianne, Spike & Milo at Trotting Dog for sending this over to us.
Lara & The Gingers xoxox
If you would like to follow Marianne and her adventures with Spike & Milo head on over to their SM pages below –
IG: https://www.instagram.com/spikethevizsla/
Twitter: https://twitter.com/spikethevizsla?lang=en
FB: https://www.facebook.com/trottingdog/